No meet-up for Nov, so that's a wrap!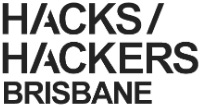 Year of the Rollercoaster

The pattern we fell into this year was hosting an event every second month, due to ~waves hands around~ all the things. In keeping with this pattern (although it wasn't designed as such), we don't have anything lined up for November - which in turn means, that's a lid on the year.

A massive, huge thank you to everyone who has listened in (or come along) to a meet-up in 2020. The topics we covered this year:
The big stories to watch in 2020

Visualising pandemic data

Sports data and human decision-making

The future of XR storytelling

The local news industry
You're a great bunch and we always have thought-provoking chats about the things that interest us - digital storytelling, technology, internet culture, data, online privacy, and more.

The H/H Bne organisers have already started thinking about the new year, but we're always keen to hear from you - what do you want to know, learn more about, or discuss in 2021? Email us or tweet us.

Lastly, thanks to those who filled out the survey last month about local news. I didn't get the overwhelming response I was hoping for (!), so I'm mindful of not drawing big conclusions from a small group of respondents. I think it's definitely worth exploring more next year 🥂
ICYMI

🛠️ I had no idea big tech companies filed "all kinds of crazy patents for things". Sure, some are crazy, but researching ways to give amputees a touch sensation sounds like an amazing thing

📍 Data harvested by apps is big business, and the US military is buying location information

👨‍💻 The Privacy Act is being reviewed by the Federal Government to determine if it's fit for our modern digital life

📱 Google says it's going to stop preferencing AMP in its search results. "Some called it Google's attempt to exert the same kind of control over the larger web that Facebook exerts over posts in its closed system."
Don't forget we have a website where you can find out about volunteering or speaking at a Hacks/Hackers Brisbane event.
About last month...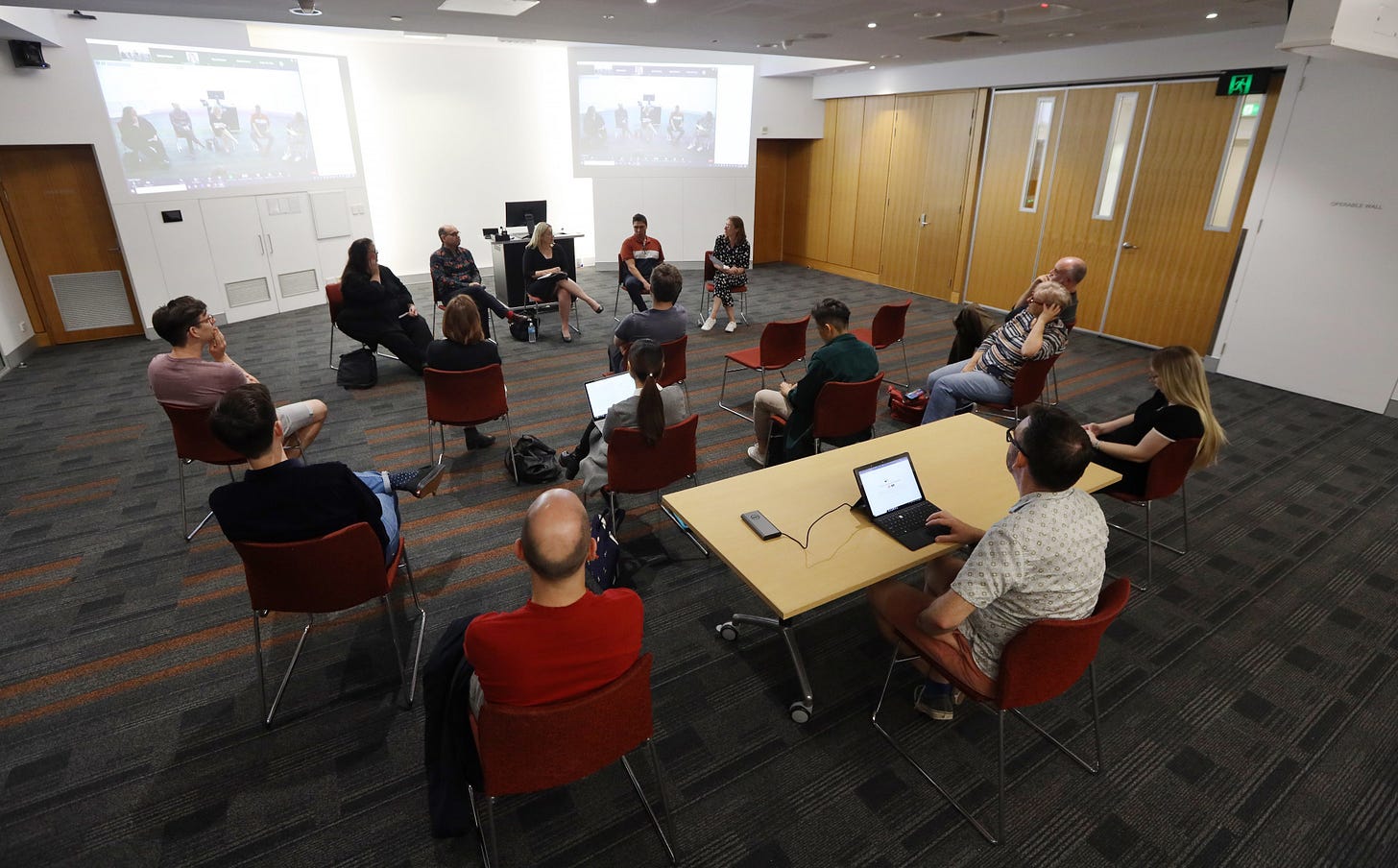 Another huge thanks to everyone who joined us/zoomed in for our live session last month! It was the first in-person meet-up since February, and we were in a new location - cheers to the QUT School of Communication.

The topic was local news and how well the local media industry is serving the people of Brisbane. It was a pleasure to hear from Danielle Cronin, Axel Bruns, Jyi Lawton, & Vanessa Wiltshire.

We talked about the Queensland election, misinformation and disinformation, social media, Indigenous media, citizen journalism, audience feedback, collaborations between big and small news businesses, and more! It's certainly a topic that encompasses a lot, so I think it's something we should return to - stay tuned for 2021.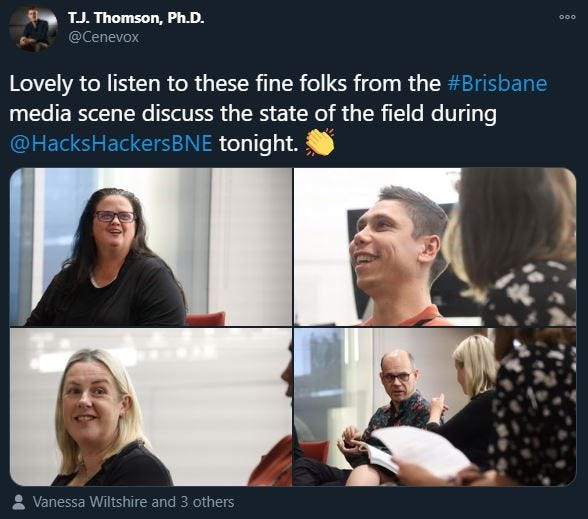 Lastly, and always, thanks to TJ Thomson for photographing the event.